The Darker FallSarabande Books (2002)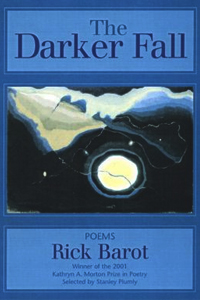 This is a book of lyric wonders: wit that turns dark, darkness that blazes up again in music and story. These are poems of eros and elegy. But they also have a rare, unswerving quality of dailiness. The cockroach and the jasmine and the heartbroken speaker all coexist in this world, made vivid in these poems by the exuberance and skill of a wonderful new poetic voice.
—Eavan Boland
Though The Darker Fall opens with a poem entitled "Reading Plato," both the poem and the book are finally an argument against that philosopher of the eternal forms. This poet chooses the actual every time, and finds the numinous there. A section of one poem is called "Inventory," and that could be applied to the book as a whole: Barot is a poet in love with the multiple and particular items of the phenomenal world. "The shuffle of images" is always with him. Initials scratched into a cab partition, a glove lying on the grass: in these poems "a precise light [is] found for each," illuminating in every sense.
—Reginald Shepherd
Read Selected Poems